SCIENTIFIC COUNCIL
Competence of the Scientific Council is defined by the Statute of the TTC ("Official Military Gazette", No. 21/98, Article 25 to 30).
Scientific Council is the professional body of the Technical Test Center, which considers issues of our research work.
Scientific Council has 21 members, of which at least 15 in permanent employment in a Technical Test Center and at least 10 of them with the scientific title. Scientific Council can have no more than six members from the ranks of external collaborators, and all six with the scientific position.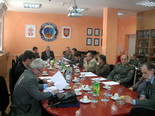 Scientific Council, in addition to the rights, obligations and duties stipulated by the Law on Military schools and military research establishments and general acts of Technical Test Center, perform these tasks:
-

determines the proposition to the Technical Test Center statute;
-

propose long-term program orientation;
-

provide expert opinion on the plans and programs of scientific research;
-

propose research projects and evaluate the quality of completed projects;
-

select researchers in research and scientific titles;
-

gives its opinion on the proposal for education and scientific training of researchers;
-

provide expert opinion on the proposals for grant awards for outstanding achievements in the field of research.
Scientific Council works in accordance with the Directive on the work organization of the Scientific Council and the Rules of Procedure of the Scientific Council of Technical Test Center.
C O N T A C T:

major Radovan Karkalic, PhD - President of the Scientific Council
Phone +381 11 3975 293 and +381 11 3401 002
Mobile +381 64 8329 001 and +381 64 8598 207

Dusan Ostojic, PhD
- Secretary of the Scientific Council