DEPARTMENT OF ARMAMENT

Armaments sector is intended for testing conventional weapons, missile weapons, NBC means and equipment as well as personal and intendant resources.
For the purposes of testing, sector uses testing ground "Nikinci" with its specific infrastructure, measuring and testing equipment, as well as other available military and factory testing grounds and laboratories. In his work, sector is using over 550 measurement and testing devices that are under the constant metrology supervision.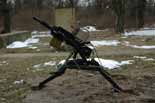 The sector performs final testing of stated means from their own development, as well as verification testing of those means from the finished products market of domestic and foreign production, produces the standards and methods based on their own research and R&D testing in collaboration with other institutions.
In its primary scope of activities, sector is testing the following resources/characteristics of A&ME :
Small arms,

Artillery,

Guided and unguided missiles,

Fire control systems and their components,

Mortars,

Recoil-free tools

Ammunition

Hand grenades,

Mines and other explosive devices and circuits with an explosive-pyrotechnic charge,

Warheads,

Fuses,

Ordnance of secondary purpose

Means for individual ballistic protection,

Trainers, simulators and training kits,

Rocket engines and gas generators,

Training missiles and missile targets,

Pyropatron (percussion, electric and electroimpact) and cartridges (fuzes) for passive protection, and marking,

Guidance systems (anti-and anti-missile)

Electronic and electromechanical components in the homing head and the autopilot,

Electronic and electromechanical components of missile fuzes,

Electronic and electromechanical components in the ignition circuit and launching rockets,

Resistance of the guiding systems to disturbances,

Means of radiological detection and dosimetry (radiological detectors, dosimetry of gamma and neutron radiation and radiometric laboratory for determining the specific activities of samples, food items and water),

Means of detection and identification of highly toxic substances (mobile chemical labotatories, semi-automatic and automatic chemical detectors and personal kits for taking samples of the contaminated material),

Means of personal and collective protection (body protection, face and respiratory means) as well as filters for collective protection,

Means of radiological and chemical-biological decontamination (personal and group accessories and equipment for decontamination),

Water supply means (purification of river, lake and water from wells),

Basic field clothing – Full set of war military uniforms with all components,

Special purpose military clothing - different types of overalls, suits for protection from rain and the like,

Military footwear - boots and shoes,

Personal and special equipment of soldiers.
The following measurements are perfomed in sector for the purposes of final, verification, homologation and other tests:
Pressure,

Vibration

Strain,

Speed,

Acceleration,

Progress,

Temperature,

Geodetic measurements,

Measurement of temporal characteristics (duration of occurrence)

Other characteristics that result from the purpose and demands for measurement.
Sector activities include anti-missile tests on testing ground with classical reagents and cluster scattering, as well as photo and video measurement and recording (including digital UB camera) and special measurements (measuring non-electric units electrically) on the A&ME means and other means at the request of the customer outside Serbian Army for the purpose of testing and evaluating their quality.