Visit by a delegation of the Ministry of Defence of Montenegro
21. 04. 2010
In the period from 21stto 23rdApril, 2010th The delegation of the Ministry of Defence of Montenegro visited the Technical TestCenter.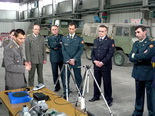 On that occasion, guided by expert discussions on military-technical cooperation and discussed the possibility of engaging the Technical Test Center for the Ministry of Defense of Montenegro.
The delegation visited the laboratories and centers of Technical Test Center Kumodraz, Batajnica and Nikinci.