Visit by a delegation of foreign military representatives
18. 05. 2010
On 18th May, 2010th, The delegation of foreign military representatives visited the center Nikinci for testing weapons and military equipment.
As part of regular annual activities, the visit was organized by the Department for International Military Cooperation Department of Defense policy.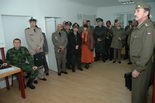 During the tour, military envoys were informed about the possibilities of the Centre, its facilities and prospects for further development, and met with development projects and displayed products of our defense industry.