THE PRIMARY METROLOGY LABORATORY FOR MICROWAVE AND OPTOELECTRONIC TECHNICS, THE ML-02
The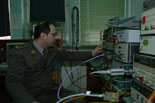 Laboratory has the authority of the Ministry of Defence and is accredited by the Accreditiation Board of Serbia according to ISO/IEC 17025/2017 standard for the calibration of standards and measuring equipment in:
-

      

Microwave attenuation,
-

      

Microwave impedance and
-

      

Time and frequency.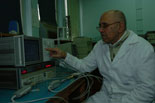 ML-02 is capable for calibration of top level standards and measuring equipment such as: function generators, pulse gener
ators, signal generators, frequency spectrum analyzers, measurement receivers, amplifiers, thermistor, termoconversion and diode heads, analog and selective voltmeters, measuring lines, microwave endings, microwave wattmeters, microwave attenuators, measures for the microwave attenuation, microwave power dividers, meters and generators of AM and FM modulation, frequencymeters, oscilloscopes, standards of frequency, interval timers, and so on. (Scope of accreditation).
Excerpt from the scope of accreditation:
 

MEASURES

 

MEASURING RANGE

 

UNCERTAINTY OF MEASUREMENT (k=2)

100 mV to 100 V, DC to 26,5 GHz

reflection 0,01 to 1,10 MHz to 26,5 GHz

reflection from 0,04 to 0,4

30 dB to 40 dB, 10 MHz tо 26,5 GHz

10 mW tо 25 W, 100 kHz to 26,5 GHz

0 dB to 100 dB, DC to 26,5 GHz

1 ×10-13 (three weeks)