Laboratory for primary standards of basic non-electric quantities, THE ML-03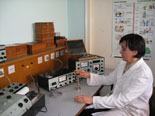 The laboratory is authorized by the Ministry of Defense to review standards and benchmarks in the areas of:
-

      

relative humidity
-

      

acceleration of vibration
-

      

sound pressure and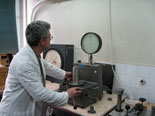 The laboratory is equipped to carry out the calibration of standards and measures such as: micrometers, movable gauges, depth gauges, weights, scales with non-automatic functioning, scales with automatic and semi-automatic functioning, accelerometers, vibrometers, manometers, barometers, barographs, altimeters, thermometers, thermographs, thermohygrographs, thermohygrobarometers, calibration furnaces, thermostatic baths, air conditioning chambers, hygrometers, hygrographs, measuring microphones, noise level meters, speed meters, etc..
Extract from the scope of accreditation

Measure

measuring range

Length

0,5 mm  tо  320 mm

Mass

1 mg  tо  100 kg

Acceleration in circular motion

1 m·s-2 tо 160 m·s-2

Rotational speed

10 min-1 tо 300000 min-1

Angular velocity

2 º/s tо 600 º/s

Sensitivity of accelerometers

1 pC/m·s-2  tо  1 nC/m·s-2

Acceleration with vibrations

1 m·s-2  tо  1 km·s-2

Pressure

-100 kPa  tо  120 МPa

Temperature

-183 oC  tо  1100 oC

Relative humidity

10 % RV  tо  100 % RV

Microphone sensitivity in relation to 1 V/Pа

-60 dB  tо  -20 dB

Sound pressure in relation to 20 mPа

10 dB  tо  160 dB
The laboratory is accredited by ATS according to the requirements of the SRPS ISO/IEC 17025:2017 standard for the calibration of standards and benchmarks. The scope of accreditation is given in the link.